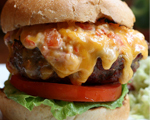 Prep: 15 min
Cook Time: 15 min
Total: 30 min
Serving: Serves 4
Spice up your standard bacon cheese burger with spicy pimento and jalapenos, and give your boring burger some extra zing!
Ingredients
2 pounds of ground beef
2 dashes of Worcestershire sauce
8 slices of bacon
1 cup of grated cheddar cheese
1/4 cup pimento
1/8 chopped jalapenos
1/4 cup of mayonnaise
Salt and pepper to taste
Sliced onions, lettuce and tomatoes (optional)
Directions
In a medium-sized skillet, fry bacon over a high heat until crispy. Set aside on paper towels to drain.
In a small bowl, mix together the cheese, pimentos, jalapenos mayonnaise and a sprinkle of salt and pepper. Blend well and set aside.
Prepare BBQ or broiler on medium-high.
Sprinkle the meat with salt and pepper and the Worcestershire sauce, and mix by hand in a large bowl. Form the meat into patties.
Cook the patties on the grill, flipping once, for approximately 5 minutes per side for medium-rare. Once cooked, top with the cheese mixture and the bacon and cook just until cheese is melted.
Place patty on a toasted hamburger bun and serve with a side of lettuce, onion and tomato toppings; serve at once.