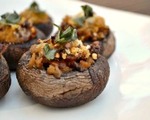 Prep: 5 min
Cook Time: 15 min
Total: 20 min
Serving: 4-6 People
There's no better combination than bacon and blue cheese. Paired with crispy panko bread crumbs, fresh basil and extra virgin olive, you have one of the easiest and most delicious appetizers out there. These stuffed mushroom caps will surely become a staple at your dinner parties and holiday soirees!
Ingredients
12 baby bella mushrooms, de-stemmed
1/4 cup Panko bread crumbs
1/3 cup crumbled blue cheese
4-5 pieces bacon, crumbled
2 tablespoons extra virgin olive oil
2 fresh basil leaves, chopped and seperated
1/8 teaspoon sea salt
1/8 teaspoon fresh ground pepper
Cooking spray
1 tablespoon crushed red pepper
Directions
Preheat oven to 350 degrees F. Grease baking sheet with cooking spray. Arrange mushroom caps, soft side down on baking sheet.
In a shallow bowl, mix blue cheese, bacon, crushed red pepper, one chopped basil leaf, sea salt and pepper. Carefully spoon cheese mixture into each mushroom, filling about 3/4 full.
Sprinkle bread crumbs over the cheese mixture. Add second chopped basil leaf to each mushroom. Bake for 15-20 minutes or until bread crumbs are browned. Garnish with additional chopped bacon.