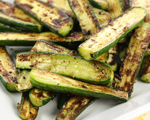 Prep: 10 min
Cook Time: 10 min
Total: 20 min
Serving: 10 Servings
Baby zucchini are more tender and flavorful than the classic adult variety. Try them sautéed with garlic and then topped with fresh mint and lemon juice in this delicious side dish recipe.
Ingredients
3 tablespoons extra-virgin olive oil
1 large garlic clove, minced
3 pounds baby zucchini, trimmed and halved lengthwise
Salt and freshly ground pepper
3 tablespoons fresh lemon juice
1/3 cup chopped mint
Directions
Put the olive oil into a large sauté pan over medium heat. Once the oil begins to shimmer, add the garlic and cook for 25 seconds until golden brown, then add the zucchini and a few pinches of salt and pepper.
Sauté the mixture over medium-high heat for 8 minutes and then remove the pan from the heat and stir in the lemon juice and the mint. Serve immediately.