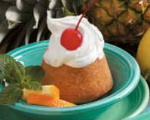 Prep: 1 hr
Cook Time: 30 min
Total: 1 hr 30 min
Serving: 9-10 cakes
Fun little orange mini cakes.
Ingredients
1 package yellow cake mix
3/4 cup sugar
3/4 cup water
3/4 cup orange jucie
3 tablespoons of thinly slivered orange peel
Directions
Prepare the cake according to the directions. Pour into well greased paper hot-drink cups, filling half full. Bake at 375 degrees Fahrenheit for 25 minutes.
Make a syrup combining the sugar, water, orange juice and orange peel, cooking for 5 minutes.
Allow the cakes to chill for a couple minutes before turning out of the cups onto a serving tray. pour the syrup generously over, allowing it to soak in. Chill. Serve cold with whipped cream.