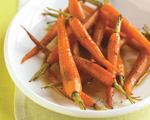 Prep: 15 min
Cook Time: 32 min
Total: 47 min
Serving: 4 Servings
A sweet and spicy way to perk up your boring boiled carrots, the orange juice in this side dish creates a wonderful light syrupy glaze.
Ingredients
4 bunches baby carrots trimmed and peeled (approximately 24 carrots)
1-1/4 cups fresh orange juice
2 teaspoons ground cumin
2 tablespoons (1/4 stick) butter
Honey
Salt and pepper to taste
Directions
Put the carrots in a large pot and pour over the orange juice. Sprinkle in the cumin, a pinch of salt and a few grinds of freshly ground pepper.
Bring the mixture to a boil and then reduce heat to medium-low and simmer for about 25 minutes.
Remove the carrots and set aside. Increase the heat to high and boil the liquid for about 3 minutes.
Reduce the heat to low and whisk in the butter and season with salt and pepper. Place the carrots back into the pot and slowly stir over low heat until heated through.
Drizzle the carrots with honey and serve immediately.