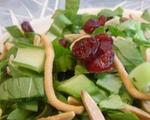 Prep: 15 min
Cook Time: 15 min
Total: 30 min
Serving: 4 Servings
This baby bok choy salad is delicious and is a nice change from regular lettuce. Try it with some fruit for a little something extra.
Ingredients
2 bunches baby bok choy, cleaned and sliced
1/2 cup olive oil
1/4 cup white vinegar
1/3 cup white sugar
3 tbsp low-sodium soy sauce
1 bunch green onions, chopped
1/8 cup slivered almonds, toasted
1/2 (6 ounce) package chow mein noodles
Dried cranberries, sliced apples, mandarin oranges (optional)
Directions
In a glass container with a lid, combine olive oil, white vinegar, sugar and soy sauce. Close the container and shake until well mixed.
Next, combine the baby bok choy, green onions, almonds and chow mein noodles in a salad bowl. Toss with dressing, garnish with fruit if desired and serve.