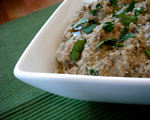 Prep: 15 min
Cook Time: 20 min
Total: 35 min
Serving: Serves 6-8
The name may be difficult to say, but the dish is easy to make! A wonderful spread or dip made from grilled eggplant and tahini.
Ingredients
3 eggplant
4 cloves garlic
2 tablespoon tahini
1/2 teaspoon cumin seeds
1/2 teaspoon chilli powder
juice of 3 lemons
salt to taste
chopped parsley
Directions
Grill the eggplants until their skins turns black
Place eggplant in a paper bag, cool slightly and then remove the charred skin.
In a large bowl, mash the eggplant and then combine with the remaining ingredients. Mix until fully blended. Garnish with parsley.