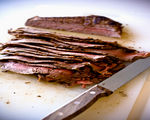 Prep: 20 min
Cook Time: 8 hr
Total: 8 hr 20 min
Serving: 8
Put this roast in a tortilla or on a bun.
Ingredients
4 lb. boneless chuck roast
1 1/2 cups tomato paste
2 tbsp. mustard
1/4 cup packed brown sugar
1/4 cup red wine vinegar
2 tbsp. Worcestershire sauce
2 tsp. liquid smoke flavoring
1/4 tsp. salt
1/4 tsp. pepper
1/2 tsp. garlic powder
Directions
In a small bowl combine all ingredients except the roast.
Place roast in a crock pot.
Pour barbecue sauce mixture over roast.
Cover and cook on low 8 to 10 hours or 4 to 5 on high. Remove chuck roast from crock pot.
Shred roast with a fork.
Place shredded roast back in crock pot.
Stir roast to evenly coat with sauce.
Ready to serve.