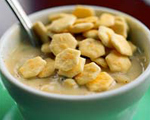 Prep: 15 min
Cook Time: 44 min
Total: 59 min
Serving: Makes 4-6 servings
This recipe for Clam Chowder has won many awards in numerous New England chowder competitions. Find the ingredients with help from your local fishmonger.
Ingredients
10 Cherrystones
6 Quahogs
40 ounces clam juice
1 pint heavy cream
1 cup water
4 ounces clarified butter
4 ounces flour
1 medium onion
1 rib celery
1 large potato, blanched
1/2 teaspoons white pepper
1 small bay leaf
1 clove minced garlic
1/4 teaspoon thyme
Directions
Rinse the clams free of any sand or grit. Put the clams in a pot with 1/2 cup of water, covered, and steam until the clams open. Discard any clams that do not open. Remove the clam from its shell, chop and set aside in a small bowl. Repeat the same procedure for the Quahogs.
Using the same pot, melt the butter and sauté the garlic for 3 minutes on medium heat. Add the onions, celery, pepper, bay leaf and thyme and mix to combine. Continue to sauté the mixture until the onions are soft, about 6 minutes.
Sprinkle in the flour and cook, stirring continuously, for 4 minutes. Gradually, pour in the clam juice and stir to blend. Simmer the mixture for 10 minutes stirring frequently so chowder does not stick. Add the potatoes and continue cooking for 8 minutes.
Stir in the cream, clams and a sprinkle of salt and pepper, and bring the soup to a boil. Remove from heat and ladle into bowls. Serve hot with oyster crackers.