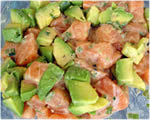 Prep: 20 min
Cook Time: 15 min
Total: 35 min
Serving: 6
The bacon and avocado gives this recipe a unique taste.
Ingredients
2 medium avocados
1 cup chopped watercress
1 small onion
2 cans tuna
1 can cream of chicken soup
1/2 cup milk
1/4 teaspoon black pepper
4 slices bacon
1 cup crushed potato chips
Directions
Peel and dice the avocados.
Place in a greased 1 1/2 quart casserole dish and top with watercress.
Grate the onion over the watercress.
Drain the tuna and flake slightly.
Heat the soup in a pan with the milk.
Add pepper.
Fry the bacon in a skillet until crisp.
Place the bacon on a paper towel and crumble.
Add the tuna and bacon to the hot soup.
Stir mixture together well.
Pour the mixture over the avocado.
Sprinkle the top with potato chips.
Bake at 450 degree F for 15 minutes.