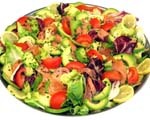 Prep: 30 min
Cook Time: 30 min
Total: 1 hr
Serving: Serves 12
This salad is loaded with healthy fats and makes a delicious addition to any meal.
Ingredients
4 ripe avocados
1 cup grape or cherry tomatoes
1/3 cup chopped red onion
1/4 cup very thinly sliced red radishes
1/4 cup blue cheese crumbles
1/4 cup extra-virgin olive oil
Juice of 1 lime
Kosher salt and coarsely ground black pepper to taste
Bibb lettuce leaves, hollowed tomatoes, cilantro sprigs for serving (optional)
Directions
Peel and pit avocados. Dice and place in medium mixing bowl.
Halve grape tomatoes and add to avocados in bowl. Sprinkle chopped onion and cilantro over the avocados and tomatoes; add blue cheese crumbles. Drizzle with olive oil and lime juice. Season to taste with salt and pepper and stir gently to combine.
Cover salad and let stand for 30 minutes in refrigerator or at room temperature to allow flavors to blend. Serve on lettuce leaves or in hollowed-out tomatoes. Garnish with sprigs of cilantro, if desired.