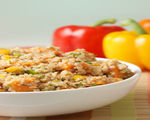 Prep: 10 min
Cook Time: 30 min
Total: 40 min
Serving: 4
Adapted from a recipe by John Barkley for The Culinary Institute of America and the Produce for Better Health Foundation, this is a healthy, filling salad with many wonderful tastes and textures.
Ingredients
2 tablespoons canola oil
1 cup quinoa, rinsed
1 cup finely diced onion
1 tablespoon minced garlic
1 teaspoon dried oregano, crumbled
1 1/4 cups chicken stock
Salt and black pepper to taste
1 cup seeded, diced cucumber
2 cups seeded, diced tomato
1 cup white kidney beans (canned)
1/2 cup diced red onion
1 tablespoon chopped fresh mint
1 tablespoon minced jalapeno
2 tablespoons finely chopped fresh cilantro
1 1/2 tablespoons fresh lime juice
2 cups diced avocado
24 Belgium endive leaves
Directions
Heat the canola oil in a saucepot over medium heat. Add the quinoa and toast, stirring constantly, until golden brown.
Add the onions, garlic and oregano, and cook, stirring, for 5 minutes.
Add the stock and bring to a simmer.
Season with salt and pepper. Cover pot and cook for 20 minutes, or until tender.
Pour quinoa onto a sheet pan in one layer to cool. Once cool, transfer quinoa to a bowl and add the cucumbers, tomatoes, beans, onions, mint, jalapeno and cilantro, tossing to combine.
Season with lime juice and gently fold in the avocado. Serve with endive.