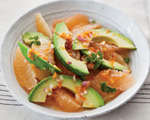 Prep: 15 min
Cook Time: –
Total: 15 min
Serving: 4 Servings
Thin slices of avocado and pink grapefruit are drizzled with tangy Dijon vinaigrette to create this elegant summer dish.
Ingredients
1 tablespoon Dijon mustard
1/4 cup fresh lemon juice
1-1/2 teaspoons sea salt
3-1/4 teaspoons freshly ground pepper
1/2 cup olive oil
3 ripe hass avocados
3 large pink grapefruits
chervil leaves to garnish
1 teaspoon finely grated grapefruit zest to garnish
Directions
Put the mustard, lemon juice, salt, and pepper in a small bowl and then slowly add the oil while whisking vigorously to emulsify.
Segment the grapefruits using a sharp knife and arrange onto a plate. Peel, de-stone and slice the avocados and arrange the slices on top of the grapefruit.
Drizzle the salad with the vinaigrette, garnish with the chervil and zest, and serve immediately.