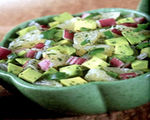 Prep: 10 min
Cook Time: –
Total: 10 min
Serving: 4
Grapefruit adds a tart taste to this salad.
Ingredients
4 tablespoons olive oil
2 tablespoons white wine vinegar
Salt and pepper to taste
1 pink grapefruit (or 2 oranges)
2 avocados, pitted, peeled, sliced
1 head romaine, separated and cut into bite-size pieces
Directions
Make a dressing by whisking together olive oil, vinegar, salt and pepper in a bowl.
Using a zester or paring knife, remove 1 tablespoon of zest from grapefruit (avoid the bitter white pith underneath the peel).
Use a sharp knife to remove peel and pith from grapefruit flesh.
Holding grapefruit over the bowl of dressing, cut in between the grapefruit membranes so that the segments and juice fall into the bowl.
Squeeze the remaining membranes over the bowl to extract the juice.
Place avocado slices in bowl and gently coat with dressing, keeping the slices intact.
The citrus will keep the avocado from turning brown. Arrange romaine on four chilled serving plates and evenly divide the grapefruit and avocados among them. Drizzle each with remaining dressing and serve.