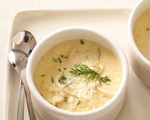 Prep: 10 min
Cook Time: 15 min
Total: 25 min
Serving: 4 Servings
'Avgolemono' means 'Egg with Lemon' in Greek, and is a staple soup and sauce base used in Greek cooking. Enjoy it with chicken and rice in this smooth and delicate soup.
Ingredients
4 cups homemade chicken stock or low-sodium broth
Sea salt and freshly ground pepper
2 cups cooked white rice, warmed
2 large egg yolks
1/4 cup plus 2 tablespoons fresh lemon juice
1 rotisserie chicken, meat pulled from the bones and coarsely shredded 1 pound
1/4 cup chopped fresh dill
Directions
Place the stock or the broth into a pot over medium-high heat and bring to a simmer
Carefully transfer 1 cup of the warm stock to a blender and then add 1/2 cup rice, the egg yolks and the lemon juice; process until the mixture is smooth.
Return the pureed mixture back to the pan and add the remaining rice, the chicken and a few pinches of salt and pepper. Cook the mixture for 10 minutes and then serve immediately garnished with the dill.