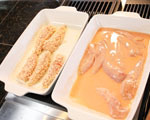 Prep: –
Cook Time: 10 min
Total: 10 min
Serving: 4 people
These average chicken nachos are anything but average!
Ingredients
6 green onions, sliced, white parts and tops separated
2 cloves garlic, minced
3 Tbsp. canola oil
1 lb. boneless skinless chicken breasts, cooked, shredded
1 cup TACO BELL® HOME ORIGINALS® Thick 'N Chunky Medium Salsa
1/8 tsp. salt and pepper to taste
6 oz. tortilla chips (1/2 of 12-oz. pkg.)
1 pkg. (8 oz.) KRAFT Mexican Style Finely Shredded Cheddar Jack Cheese
3/4 cup chopped tomatoes
Directions
Heat oven to 350ºF.
Cook and stir white parts of onions and garlic in hot oil in large skillet until tender.
Add chicken, salsa, salt and pepper; mix well.
Spread chips onto baking sheet; cover with chicken mixture and cheese.
Bake 10 min. or until cheese is melted.
Sprinkle with green onion parts and tomatoes.
Nutrition Information Per Serving: 680 calories, 40g total fat, 13g saturated fat, 1g trans fat, 120mg cholesterol, 1100mg sodium, 39g carbohydrate, 4g dietary fiber, 4g sugars, 41g protein, 25%DV vitamin A, 20%DV vitamin C, 50%DV calcium, 15%DV iron. TACO BELL® and HOME ORIGINALS® are trademarks owned and licensed by Taco Bell Corp.