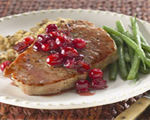 Prep: 10 min
Cook Time: 10 min
Total: 20 min
Serving: 4
These glazed pork chops are perfect for a fall dinner. Add a side of sweet potatoes or macaroni and cheese to complete the meal. This delicious recipe is sponsored by the National Pork Board.
Ingredients
4 boneless pork chops, 3/4-inch thick
1/4 teaspoon freshly ground pepper
1/4 cup apple cider or juice
1/2 cup whole cranberry sauce
2 tablespoons honey
2 tablespoons frozen orange juice concentrate
1/4 teaspoon ground ginger
1/8 teaspoon ground nutmeg
Directions
Spray a large nonstick skillet with nonstick coating.
Heat over medium-high heat.
Sprinkle both sides of chops with pepper.
Brown chops on each side in hot skillet.
Add apple cider. Cover tightly; cook over low heat for 5-6 minutes or until chops are just done.
Drain off juices. In a small bowl combine cranberry sauce, honey, orange juice concentrate, ginger and nutmeg.
Pour over chops. Cook for 1-2 minutes, until heated through.