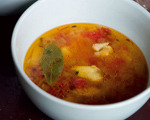 Prep: 10 min
Cook Time: 35 min
Total: 45 min
Serving: 4 Servings
This fish soup gets its festive autumn color from the addition of saffron. Serve it with a side of fresh country bread and a bottle of American Chardonnay.
Ingredients
11 ounces yellowtail fillet, skinned and boned, cut into1-1/ inch cubes
A pinch of saffron
1/4 pound onions, peeled and roughly chopped
6 ounces potatoes, peeled and roughly chopped
2 medium-sized cloves of garlic, peeled
1-1/2 tablespoons olive oil
2 bay leaves
1 fresh chili, finely chopped
1/2 cup dry white wine
2-1/4 cups clear fish stock or water
1 cup peeled, chopped tomatoes
5 teaspoons finely chopped fresh thyme and parsley
Sea salt and freshly ground black pepper
Directions
Put the saffron into a small bowl, add 4 teaspoons of boiling water and set aside to soak for 5 minutes.
Place the olive oil into a soup pan over medium heat. Once the oil begins to shimmer, add the onion and sauté for 5 minutes before stirring in the potatoes and cooking for an additional 4 minutes.
Add the garlic, bay leaves and chili to the pan, cook for 1 minute and then pour in the wine. Cook the mixture for 2 minutes and then pour in the stock. Simmer the mixture until the potato is tender, and then stir in the tomato, thyme and saffron (including the liquid).
Simmer the mixture for 12 minutes and then add the fish and cook for an additional 5 minutes. Season the soup to taste with salt and pepper, and then serve hot.