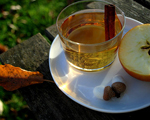 Prep: 10 min
Cook Time: 15 min
Total: 25 min
Serving: 2 Servings
A light and refreshing punch beverage spiced with cloves and cinnamon. Ideal served at an afternoon luncheon.
Ingredients
1-1/2 quart apple juice
2 cinnamon sticks
8 whole cloves
1-1/3 cup pineapple juice
1/2 cup lemon juice
2 pints orange juice
28 ounces ginger ale
Directions
Place the cinnamon sticks and the cloves in some cheesecloth and tie to secure.
Place the cheesecloth and the apple juice into a large sauce pan over medium heat, and simmer for 15 minutes. Remove and discard cheesecloth and spices.
Place the apple juice mixture into a punch bowl and add the other juices. Stir to combine, and then add a block of ice.
Prior to serving, add the ginger ale and gently stir to combine.