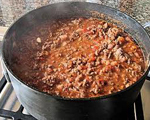 Prep: 25 min
Cook Time: 2 hr 45 min
Total: 3 hr 10 min
Serving: Serves 4-6
Authentic southwestern chili actually has no beans or tomato in the recipe; instead it is made with meat, chilies and spices.
Ingredients
4 tablespoons olive oil
3 pounds Beef Chuck, cut into 3/4-inch cubes
3 pounds Pork Shoulder, cut into 3/4-inch cubes
1 large Onion
6 large Garlic Cloves
6 tablespoons pure Chili Powder
1 tablespoon Oregano
1 teaspoon Ground Cumin
1 teaspoon Black Pepper
Salt to taste
Corn Starch to thicken
Directions
Remove any bone, gristle or fat from the meat and then brown in a large soup pan with 3 tablespoons of olive oil. Fry the meat until just browned, being careful not to overcook.
Place the onion and the garlic into a blender with 1 tablespoon of olive oil and blend until the mixture becomes creamy. Remove and place in a small sauté pan and sauté for 3 minutes on medium-high heat.
Place the meat, garlic mixture and the rest of ingredients in the soup pot along with 7 cups of hot water and bring the mixture to a boil over high heat.
Once meat mixture is boiling, reduce the heat to medium-low, cover, and simmer for 2-1/2 hours; you should be able to cut through the meat easily with a fork. Remove any excess fat for froth from the surface and discard.
Thicken the chili with cornstarch as needed by mixing 1 tablespoon of flour at a time in 1/4 a cup of cold water until dissolved, and then adding to the soup and simmering for 3 minutes.
Ladle into bowls and serve with cayenne or hot chili for those who want a bit more heat.