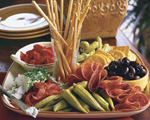 Prep: 25 min
Cook Time: –
Total: 25 min
Serving: Serves 4
Antipasto means "before the meal" in Italian and is the traditional first course in an authentic Italian menu. It is a wonderful combination of 'mini-bites' of food that are meant to stimulate the appetite at the beginning of the meal. Serve with a soft and fruity, medium bodied Merlot.
Ingredients
1/2 Pound sliced Genoa salami
1 sliced tomato
1 large white onion, sliced in rings
2 roasted red bell peppers, cut into strips
1 Pound sliced provolone
2 cans black pitted olives
1 can baby corn on the cob
1 small jar of Pepperoncini peppers
2 stalks of celery
1 can rolled anchovies
sea salt to taste
extra virgin olive oil
parsley sprigs for garnish
Directions
Using a long serving platter, arrange the ingredients in the following order: Salami, provolone, tomato, onion, red peppers, and anchovies.
In the center of the tray, place the baby corns and the olives.
Cut the celery into sticks and place in between each antipasti ingredient.
Sprinkle sea salt on all of the ingredients and then drizzle the oil evenly. Put the antipasti, covered, in the refrigerator for at least 4 hours to enhance the flavors.
Remove, garnish with parsley sprigs, and serve at room temperature.