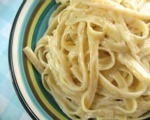 Prep: 10 min
Cook Time: 20 min
Total: 30 min
Serving: Serves 4-6 people
A little taste of Italy, Authentic Fettuccine Alfredo is a nice dish to serve with a fresh salad and artisan bread.
Ingredients
12 ounces uncooked fettuccine pasta
2/3 cup whipping cream
6 tablespoons unsalted butter
1/2 teaspoon salt
White pepper to taste
Dash of nutmeg
1 cup Parmesan cheese, grated
2 tablespoons fresh parsley, chopped
Directions
Cook the pasta according to package directions. Drain and return to pan, keeping it warm.
In a large skillet over medium-low heat, add the cream and butter. Stir frequently and cook until the mixture bubbles. Cook and stir for another few minutes. Add the salt, pepper and nutmeg and stir. Remove from heat.
To the butter and cream mixture (off the heat), gradually stir in the Parmesan cheese until smooth. Return the pan to the heat briefly to ensure the cheeses blend together. Do not let the sauce bubble.
Pour the sauce over the pasta in its pan. Cook and stir the pasta over low heat for about 3 minutes (or until the sauce is thickened and the pasta is well-coated). Sprinkle the parsley on top and serve warm.