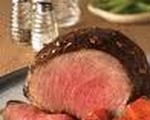 Prep: 15 min
Cook Time: 3 hr 15 min
Total: 3 hr 30 min
Serving: 8
Aunt Mary's Italian Beef is flavored with Parmesan and garlic and slow roasted on a bed of fresh veggies.
Ingredients
6 pound rump roast or sirloin tip
1 tablespoon Parmesan cheese
1 tablespoon minced onion
1 tablespoon parsley
1 tablespoon basil
1 tablespoon oregano
2 cloves garlic, cut thin
1 whole carrot
3 ribs of celery
1 can beef broth
salt, pepper and paprika to taste
Directions
Cut 6 1-inch slits in roast. Mix together Parmesan cheese, garlic, minced onion, parsley, basil, garlic and oregano. Insert this mixture into the slits. Sprinkle with salt and pepper.
Brown roast on all sides in hot oil. Put carrot and celery in a roasting pan and add 1 can beef broth. Put roast on top of vegetables. Sprinkle with paprika, salt and pepper as desired on top.
Place in a covered roaster. Bake at 350 degrees F for 3 hours. Let cool and then slice thin for sandwiches.