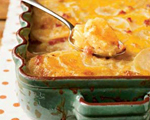 Prep: 25 min
Cook Time: 1 hr 5 min
Total: 1 hr 30 min
Serving: 6-8 Servings
A decadent side dish that pairs well with almost any main course meal; use Gruyere cheese for extra-rich taste.
Ingredients
1 garlic clove, halved
1 tablespoon butter, softened
2-1/2 pounds baking potatoes, peeled and sliced very thin
1-1/2 cups whole milk
1-1/2 cups half-and-half
1 teaspoon salt
1/4 teaspoon freshly ground black pepper
Pinch of grated nutmeg
1/2 cup dry bread crumbs
Dots of butter
1-1/4 cups grated Swiss or Gruyere cheese
Directions
Preheat the oven to 350 degrees.
Rub the cut side of the garlic all over the inside of a 12-inch baking dish and allow to dry.
Coat the dish with the softened butter and set aside.
Place the potatoes, milk, cream, salt, pepper and nutmeg in a large saucepan over medium heat and bring to a simmer. Cook the mixture, stirring occasionally, for 5 minutes and then transfer to the prepared baking dish.
Press down on the potatoes and evenly spread them out in the dish. Sprinkle the mixture with the bread crumbs and cheese and then dot with butter.
Place the dish in the oven and cook for 1 hour.