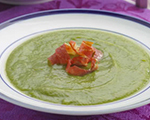 Prep: 15 min
Cook Time: 17 min
Total: 32 min
Serving: 4 Servings
Try this creamy asparagus soup sprinkled with crispy crumbled prosciutto.
Ingredients
1-14-ounce can reduced-sodium chicken broth
1/4 cup water
1 yellow-fleshed potato, peeled and cut into 1/2-inch cubes
1 medium shallot, thinly sliced
1 clove garlic, thinly sliced
1/2 teaspoon dried thyme
1/2 teaspoon dried savory or marjoram leaves
1/8 teaspoon salt
12 ounces asparagus, woody ends removed, sliced into 1-inch pieces
1-1/2 ounces thinly sliced prosciutto, chopped
Freshly ground pepper to taste
Directions
Place the prosciutto in a small skillet over medium-high heat and cook for 5 minutes until crispy. Crumble when cool and set aside.
In the meantime, put the broth, water, potato, shallot, garlic, thyme, savory and salt into a large saucepan and bring to a boil.
Once boiling reduce the heat to medium-low, cover, and simmer for 9 minutes. Add in the asparagus and cook for an additional 6 minutes.
Using a handheld immersion blender, blend the soup until smooth and then transfer into bowls. Top with the crumbled prosciutto and serve immediately.