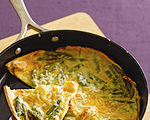 Prep: 15 min
Cook Time: 20 min
Total: 35 min
Serving: Servings: 4
This elegant asparagus popover recipe makes an elegant addition to any brunch.
Choose firm, bright green stalks with tight tips. Store upright in a glass filled with an inch of water. Snap off the woody ends – they will break off naturally. Rinse to remove any grit, especially around the tips. Peel tough parts of the stem using a vegetable peeler.
Ingredients
1 pound asparagus
2 tablespoons butter
1/2 cup milk
3 large eggs, at room temperature
1/2 cup flour
Salt and pepper
Pinch sugar
3 ounces Gruyere or Swiss cheese, shredded (1 cup loosely packed)
Directions
Position a rack in the lower third of the oven and preheat to 425 degrees F. In a medium saucepan, add enough salted water to reach a depth of 2 inches and bring to a boil. Add the asparagus and cook until crisp-tender, about 3 minutes. Drain and rinse with cold water, then pat dry with paper towels. Cut the spears crosswise into thirds.
In a medium cast-iron skillet, add the butter. Place the skillet in the oven to melt the butter.
In a medium bowl, microwave the milk on high for about 30 seconds. Whisk in the eggs, then the flour, 1/2 teaspoon salt, 1/2 teaspoon pepper and the sugar.
Add the asparagus pieces to the hot cast-iron skillet and pour the batter on top. Sprinkle with half of the cheese and bake until puffed golden-brown, 18 to 20 minutes. Top with the remaining cheese.