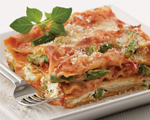 Prep: 30 min
Cook Time: 1 hr 20 min
Total: 1 hr 50 min
Serving: 4 Servings
An elegant vegetarian alternative to traditional lasagna; enjoy with a glass of Pinot Bianco or dry Riesling and savor the taste of spring in this wonderfully light dish.
Ingredients
3 cups water
1-1/2 pounds asparagus, trimmed and cut into 1/4-inch pieces
2 cups milk
1 tablespoon cornstarch
1 tablespoon all-purpose flour
1-1/2 teaspoons unsalted butter
3/4 teaspoon salt
Freshly ground pepper
1 bunch scallions, thinly sliced
1/2 cup + 2 tablespoons grated Parmesan cheese
8 no-boil lasagna noodles
1 cup ricotta cheese
Directions
Preheat the oven to 400 degrees. Spray a 9-inch square baking dish with cooking spray.
Boil the water in a saucepan and add the asparagus. Cook for two minutes and then quickly drain; let cool.
In another saucepan, whisk together the milk, cornstarch, flour, butter, salt and pepper. Continue to cook, whisking constantly, until the sauce comes to a boil, approximately 3-4 minutes. Remove from heat and stir in scallions and the 1/2 cup of Parmesan cheese.
Spoon about 1/4 of the sauce into the baking dish; top with a layer of lasagna noodles, then cover with one-third of the ricotta and one-third of the asparagus. Continue layering the ingredients in this order for two more layers. Finish with the last 2 noodles and the remaining sauce.
Cover the lasagna tightly with aluminum foil, making sure the foil does not touch the sauce. Bake the lasagna for 40 minutes and then remove the foil and sprinkle the remaining 2 tablespoons of Parmesan cheese on the top. Put back into the oven and continue baking for approximately 15 minutes or until cheese starts bubbling. Remove from oven and let stand for 15 minutes before serving.