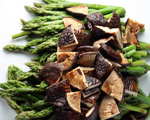 Prep: 10 min
Cook Time: 10 min
Total: 20 min
Serving: 6 Servings
An impressive asparagus side dish that you almost won't want to eat due to its beautiful presentation. Almost.
Ingredients
2 tablespoons olive oil
2 tablespoons soy sauce
1 tablespoon lemon juice
1 tablespoon rice vinegar
2 tablespoons chopped tarragon
Sea salt and freshly ground black pepper
1-1/2 pounds fresh shiitake mushrooms, stemmed
2 pounds thin asparagus
Directions
Prepare the grill on medium heat.
In the meantime, place the olive oil, soy sauce, lemon juice, vinegar, and tarragon into a small bowl, add a few pinches of sea salt and a few grinds of fresh pepper, and then whisk the mixture to combine.
Place the mushrooms on the grill, brush with 2 tablespoons of the prepared vinaigrette and then sprinkle with some salt and fresh pepper. Grill the mushrooms for about 6 minutes until tender and then place into a bowl.
Fill a large sauté pan 1/2 full with salted water and bring to a boil. Once boiling, add the asparagus and cook for 3 minutes and then remove immediately and place on a serving platter.
Place the mushrooms on top of the asparagus and then drizzle both with the remaining vinaigrette. Serve immediately.