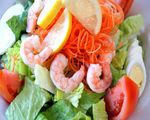 Prep: 15 min
Cook Time: –
Total: 15 min
Serving: 4
A zesty slaw-type dish brightly flavored with fresh fruit and delicate shrimp blended with a creamy dressing. This salad can be your saving grace when temperatures soar.
Ingredients
Asian Shrimp Salad:
2 cups shredded iceberg lettuce
3 cups shredded red cabbage
1/2 pound carrots, trimmed, shredded (about 1 3/4 cups)
1/4 cup fresh cilantro, chopped
1/4 cup chopped scallions or green onions, white and green parts
2, 4-ounce pears, cored, diced (about 1 cup)
1, 8-ounce mango, pitted, diced (about 1 cup)
1 1/2 pounds small cooked shrimp (about 40 to 45)
1/2 cup dry roasted cashews, chopped
Creamy Citrus Dressing:
1/2 cup reduced-fat mayonnaise
1/4 cup plain yogurt
Juice of half an orange (about 3 tablespoons)
Juice of a lime (about 1 1/2 tablespoons)
1 tablespoon honey
1 tablespoon rice wine vinegar
Pinch of salt or to taste
1/4 teaspoon cayenne pepper
1 tablespoon minced fresh tarragon or 1 teaspoon dried
Freshly ground black pepper to taste
Directions
Whisk all dressing ingredients together and set aside.
Combine vegetables, fruit, and shrimp in a large bowl.
Toss with dressing to coat.
Keep refrigerated until ready to serve.
As the salad sits, the vegetables will give off their own liquid.
Drain if salad gets soggy.
Plate salad and garnish with chopped cashews.
Nuts should be added to salad right before serving to keep them crunchy.