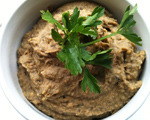 Prep: 4 hr 10 min
Cook Time: 46 min
Total: 4 hr 56 min
Serving: Makes 1-2/ cup
This incredibly satisfying Asian-inspired roasted eggplant dip is surprisingly fat-free. Serve with a side of baked pita chips or toasted pita bread.
Ingredients
1 eggplant (about 1 pound)
1/3 cup finely chopped red onion (about 1/2 small)
1/3 cup chicken or vegetable broth
2 tablespoons chopped fresh cilantro
2 tablespoons thawed apple juice concentrate
1 teaspoon finely chopped gingerroot
2 teaspoons cider vinegar
2 teaspoons soy sauce
1/8 teaspoon crushed red peppers
1 clove garlic, finely chopped
Directions
Preheat the oven to 400 degrees.
Put the eggplant onto a baking sheet and pierce a few times with a knife. Place the eggplant into the oven and bake for 40 minutes. Remove from the oven and set aside unitl cool enough to handle.
Cut the eggplant in half, remove the pulp and place in a non-stick sauté pan over medium heat. Sauté the eggplant for 6 minutes, stirring frequently, and then place in a food processor with the remaining ingredients. Process the mixture until smooth and then transfer to a bowl.
Cover the eggplant spread and place in the refrigerator for 4 hours to chill prior to serving.