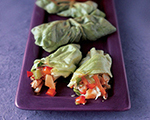 Prep: 40 min
Cook Time: 10 min
Total: 50 min
Serving: 24 appetizers
A tasty appetizer to add to your Asian-inspired dinner party menu, these lettuce wraps are filled with a mix of vegetables.
Ingredients
1/3 cup water
1/4 cup hoisin sauce
2 tablespoons oyster sauce
2 tablespoons soy sauce
2 teaspoons sugar
2 teaspoons cornstarch
2 teaspoons sesame oil
1 tablespoon butter
1 cup chopped red and/or green bell pepper
1/4 cup chopped onion
2 teaspoons finely chopped fresh garlic
1 (8-ounce) can bamboo shoots, chopped
1 (8-ounce) can water chestnuts, chopped
1 (3.5-ounce) package shiitake mushrooms, chopped
1 cup coleslaw mix
24 Bibb lettuce leaves (2 heads)
Directions
For the sauce, place the water, hoisin sauce, oyster sauce, soy sauce, sugar, cornstarch and sesame oil in a medium saucepan, and cook over medium heat for 3 minutes. Set aside to cool.
In a medium sauté pan, melt the butter over medium heat, and then add the red pepper, onion and garlic. Cook the mixture for 3 minutes, and then add the bamboo shoots, water chestnuts and mushrooms. Cook for an additional 3 minutes and then add the coleslaw mix and cook for 1 minute.
Place about 2 teaspoons of the sauce onto a lettuce leaf, and then top with 2 tablespoons of the vegetable filling. Fold in the sides and roll up each leaf. Continue with remaining ingredients.