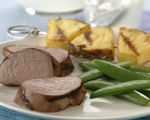 Prep: 24 hr
Cook Time: 20 min
Total: 24 hr 20 min
Serving: 6
This summer, grill up something different for your next party or family meal. Try this Asian-inspired recipe for pork tenderloin. It's accented with sweet pineapple for a tropical flavor. This recipe is sponsored by the National Pork Board.
Ingredients
2 pork tenderloins (12-16 oz. each)
1 can (6-oz.) pineapple juice (3/4 cup)
3 tablespoons soy sauce
2 tablespoons minced fresh garlic
2 tablespoons minced fresh ginger
1 1/2 teaspoons coarse salt (kosher)
1 teaspoon ground cumin
1 teaspoon chili powder
1/2 teaspoon ground black pepper
2 cups peeled and cubed fresh pineapple (1-inch pieces)
6 to 8 wooden or metal skewers
Directions
Place pork tenderloins in resealable plastic bag; set aside.
In small bowl, combine marinade ingredients; pour over pork.
Seal bag; refrigerate for at least 1 hour to marinate, or up to 24 hours to enhance flavor.
Preheat grill to medium-hot. When ready to grill, remove pork from marinade and place on grill.
Cook, covered, for about 10 minutes per side or until the internal temperature of pork is 160 degrees F.
Meanwhile, place the pineapple chunks on the skewer; place on grill during the last 6 minutes of grilling time, turning after 3 minutes.
To serve, slice pork into 1/2-inch slices (medallions) and serve with grilled pineapple.