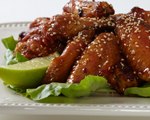 Prep: 15 min
Cook Time: 30 min
Total: 45 min
Serving: 4 Servings
These Asian-inspired chicken wings are a wonderful appetizer for a friendly get-together or your next Asian dinner party.
Ingredients
4 pounds chicken wings, rinsed and patted dry
1 tablespoon toasted sesame oil
2 teaspoons smoked paprika
1 teaspoon kosher salt
4-6 turns freshly ground black pepper
1/2 bunch fresh cilantro, for garnish
2 tablespoons toasted sesame seeds, for garnish
3 tablespoons peanut oil
4 fresh garlic cloves, peeled and gently smashed
2 tablespoons sriracha hot sauce
1/2 cup honey
1/4 cup low-sodium soy sauce
1 teaspoon sea salt
Directions
Preheat the oven o 400 degrees.
Place the wings in a roasting pan, drizzle with the sesame oil and then sprinkle with paprika, salt and pepper. Toss to combine the place in the oven for 30 minutes.
In the meantime, put the peanut oil and the garlic into a small saucepan over medium heat and cook for 3 minutes. Stir in the sriracha, honey and soy sauce and bring the mixture to a simmer, cooking for 3 minutes. Add a sprinkle of salt, stir and remove pan from heat.
Place the wings into a large bowl and pour over the Sriracha mixture. Toss to coat and then sprinkle with the sesame seeds. Serve hot.