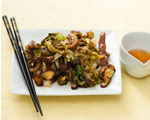 Prep: 15 min
Cook Time: 10 min
Total: 25 min
Serving: 4 Servings
Try this delicious, Asian-inspired, vegetarian stir-fry dish made with Napa cabbage and shiitake mushrooms.
Ingredients
1/4 cup water
1-1/2 tablespoons soy sauce
1 tablespoon unseasoned rice vinegar
1-1/2 teaspoon cornstarch
1 teaspoon sugar
2 tablespoons vegetable oil
1 large clove garlic, finely chopped
2 teaspoons finely chopped peeled ginger
4-ounce fresh shiitake mushrooms, stems discarded and caps cut into 1/4-inch wide strips
2 pounds Napa cabbage, quartered lengthwise and cored, then cut crosswise into 1-inch wide pieces, about 15 cups
4 scallions, thinly sliced
Salt and freshly ground pepper
Directions
Place the water, soy, vinegar, cornstarch, and sugar into a small bowl; stir and set aside.
Place 1 tablespoon of oil into a large sauté pan and place over high heat until shimmering.
Add the garlic and the ginger and stir-fry for 15 seconds, then add the mushrooms and cook for an additional 30 seconds.
Drop in half of the cabbage and add a pinch of salt and pepper, and toss the mixture while cooking for 2 minutes.
Add the remaining cabbage and cook for 3 minutes before pouring in the soy mixture, stirring and cooking for 1 minute.
Add the scallions and an additional pinch of salt and pepper, stir and serve.