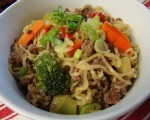 Prep: 10 min
Cook Time: 20 min
Total: 30 min
Serving: 6 servings
A simple beef, vegetable and ramen noodle dinner.
Ingredients
1-1/4 pound ground beef
1 (16 ounce) package frozen oriental stir-fry veegtable mixture
2 (3 ounce) packages Oriental-flavored ramedn noodles
1/2 teaspoon ground ginger
3 tablespoons thinly sliced green onions
Directions
Brown the beef. Drain. Stir in 1/2 cup water with salt and pepper. Simmer for 10 minutes. Transfer to another bowl.
In the same skillet, add the vegetables, broken up noodles, both seasoning packets, ginger and 2 cups of water. Bring to a boil and then reduce to a simmer. Cover and simmer for 3 minutes, or until the noodles are tender. Stir frequently.
Mix in the beef and green onions. Serve immediately.