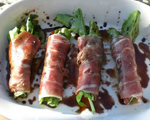 Prep: 35 min
Cook Time: –
Total: 35 min
Serving: 6 Servings
A delicious appetizer that combines the flavors of Italy in a prosciutto rolled package drizzled with balsamic cream.
Ingredients
1 bunch arugula, washed and stems trimmed
6 slices, 3-inch x 1/2, roasted red pepper
6 slices of prosciutto
1/2 cup Parmesan flakes
freshly ground pepper
balsamic cream to drizzle
Directions
Place a piece of prosciutto on a clean surface, and add 4-5 leaves of arugula on the left hand side.
Add a slice of roasted red pepper and sprinkle on flakes of Parmesan cheese.
Roll the prosciutto up from left to right and set on a serving platter. Repeat the process with the remaining ingredients.
Sprinkle the Prosciutto wraps with pepper and drizzle with the balsamic cream.