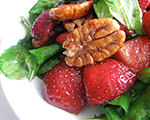 Prep: 10 min
Cook Time: 4 min
Total: 14 min
Serving: 4 Servings
Arugula's robust flavor and peppery bite, pairs perfectly with the sweet strawberries and nutty flavor of the walnuts in this simple salad.
Ingredients
1/2 cup chopped walnuts
4 cups arugula
2 cups sliced strawberries (about 10 ounces)
2 ounces Parmesan cheese, shaved and crumbled into small pieces (1/2 cup)
1/4 teaspoon freshly ground pepper
1/8 teaspoon sea salt
2 tablespoons balsamic vinegar
2 tablespoons extra-virgin olive oil
Directions
Using a small sauté pan set over medium-low heat, toast the walnuts for 4 minutes, making sure to stir the nuts frequently to prevent burning. Place the walnuts in a large salad bowl and allow to cool for at least 6 minutes.
Place the arugula, strawberries, cheese and a sprinkle of salt and pepper in the salad bowl, and toss to combine.
Pour in the vinegar and olive oil and toss once more. Serve immediately.