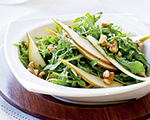 Prep: 10 min
Cook Time: –
Total: 10 min
Serving: 4 Servings
The peppery bite of the arugula pairs exceptionally well with the mildly sweet flavor of the pear in this delicious salad.
Ingredients
2 tablespoons finely chopped shallot
3 tablespoons vegetable broth
3 tablespoons extra-virgin olive oil
1-1/2 tablespoons balsamic vinegar
1/2 teaspoon Dijon mustard
1/4 teaspoon salt
Freshly ground pepper to taste
1/2 cup toasted nuts (walnuts, shaved almonds or cashews)
1/2 cup shaved Parmesan cheese
2 firm red Bartlett pears
5 cups butterhead lettuce (Bibb or Boston), torn into bite-size pieces
4 cups arugula, trimmed
Directions
In a small bowl, whisk together the shallot, broth, oil, vinegar, mustard, salt and pepper until blended.
Cut the pears into thin slices and place in a large salad bowl. Add 1 tablespoon of the vinaigrette to the bowl and toss with the pears until coated.
Add the lettuce and arugula to the bowl, and toss with the remaining vinaigrette and the pears.
Sprinkle the shaved Parmesan and toasted nuts over the salad and serve.