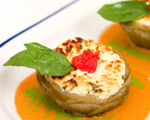 Prep: 25 min
Cook Time: 15 min
Total: 40 min
Serving: Serves 4
A rich and elegant starter dish that is sure to wow your guests with its taste and presentation.
Ingredients
1 Artichoke
2 ounces Brie, cut into chunks
1 tablespoon shallots, chopped
4 ounces White wine
8 ounces Butter, cut in 1/4" slices
2 ounces Whole grain mustard
1 tablespoon White wine vinegar
2 teaspoons of lemon juice
Sea salt and freshly ground pepper
Directions
Preheat the oven to 350 degrees.
To prepare the artichoke, cut off the top and bottom and then place in a boiling bath of water for 15 minutes.
Place artichoke in a cold water bath to stop it from cooking and then cut out the inner choke out of the artichoke's center.
Stuff the artichoke with the brie and place on a baking sheet. Bake in oven for 10 minutes.
Meanwhile, in a small saucepan, combine the shallots and the wine and cook over high heat. Remove from heat and slowly add the pieces of butter mixing with a whisk.
Mix in the mustard, vinegar, lemon juice and a sprinkle of salt and pepper. Spoon over artichoke and serve.