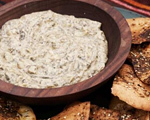 Prep: 5 min
Cook Time: 15 min
Total: 20 min
Serving: 8 servings
This isn't your classic heavy artichoke and spinach dip dripping with oil and cheese. Instead it's a lighter more refined version made with freshly grated Parmigiano-Reggiano cheese, lemon zest, and white wine. Serve with spicy pita chips.
Ingredients
1 tablespoon extra-virgin olive oil
1 small onion, finely chopped
3 cloves garlic, very finely chopped
16 ounces marinated artichokes, drained and coarsely chopped
1/4 cup dry white wine
2 10-ounce packages frozen chopped spinach, thawed and squeezed dry
12 ounces cream cheese, at room temperature
1/2 cup freshly grated Parmigiano-Reggiano cheese
1 teaspoon finely grated lemon zest
5 drops Tabasco
Directions
Place the oil into a large sauté pan over medium-low heat. Once the oil begins to shimmer, add the onion and garlic and sauté for 7 minutes.
Stir in the artichokes and cook the mixture for 5 minutes, then pour in the wine and continue to cook until the mixture is almost dry.
Add the spinach to the pan and cook for 1 minute, then stir in the cream cheese, Parmigiano-Reggiano, lemon zest and Tabasco, and mix until creamy. Serve immediately.