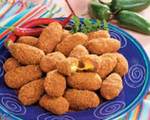 Prep: –
Cook Time: –
Total: –
Serving: Makes 12 pieces
This recipe for armadillo eggs is one of the best ideas I've seen recently. Spicy bratwurst sausage is molded around a jalapeño pepper stuffed with cream cheese to form an egg.
Ingredients
12 jalapeño peppers
1 package, 8-ounces cream cheese, softened
Golden yellow paste food coloring (or yellow food coloring)
3 pounds spicy bratwurst sausage, casings removed
Directions
Cut the stem ends off of the jalapeños and use a small knife to cut the seeds out. Keep the peppers whole.
Put the cream cheese into a small bowl and use a toothpick to add a tiny bit of the paste food coloring (this paste is very concentrated, so a little goes a long way). Mix the coloring thoroughly into the cream cheese. Add more, if you need it to achieve a bright golden color, like the yolk of an egg.
Transfer the cream cheese to a pastry bag fitted with a wide tip and pipe the cheese into the jalapeños. (You can make your own pastry bag by using a small zippered plastic bag and snipping off one corner.)
Divide the sausage into 12 pieces. Flatten each piece into a disk, place a filled jalapeño in the center, and wrap the sausage around it, pressing the edges to seal. Form the sausage into the shape of a large egg.
Smoke, using indirect heat for 1 1/2 hours at 250 degrees F. Slice to serve. The slices will resemble sliced hard cooked eggs, with the colored cream cheese looking like the yolk.
Serve with the dressing, if desired.