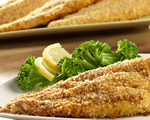 Prep: 30 min
Cook Time: 1 hr 30 min
Total: 2 hr
Serving: 4
The almonds make this dish unique.
Ingredients
1/3 cup slivered almonds
1 1/2 pounds catfish fillets
2 tablespoons freshly squeezed lemon juice
1 tablespoon barbecue sauce
1 tablespoon worcestershire sauce
1/2 teaspoon salt
1/2 teaspoon pepper
Directions
Place almonds in a shallow pan.
Toast 15 300 degrees F for 20 minutes.
Remove almonds and set oven temperature at 325 degrees F.
Score fish with cuts from 1 to 1 1/2 inches apart.
Combine lemon juice, sauces and seasonings in a small bowl.
Rub mixture into the fish.
Place fillets in a lightly greased shallow pan.
Sprinkle with toasted almonds.
Bake for 1 1/2 hours.
Serve while hot.