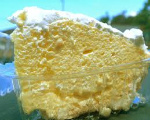 Prep: 4 hr
Cook Time: 15 min
Total: 4 hr 15 min
Serving: 8 servings
Fluffy, fruity frozen pie! Sure to be a hit so better make two!
Ingredients
1 cup rolled oats
1/2 cup flour
3/4 cup flaked coconut
5 tablespoons vegetable oil
2 tablespoons fruit juice
vegetable oil spray
1 1/2 cup frozen fruit juice concentrate
2 eggs, separated
2 cups plain low-fat yogurt
Directions
Mix together the oats, flour, coconut and oil. Slowly add the fruit juice, adding only enough to form a soft dough.
Spray a 9 inch pie shell with the vegetable spray. Press the dough into the shell and bake at 375 degrees Fahrenheit for 15 minutes, or until lightly browned. Refrigerate.
Blend together the concentrated fruit juice and egg yolks. Mix in the yogurt and blend just until combined. Spread into an 8 inch square pan and freeze until slushy.
Beat the egg whites until stiff. Combine with the slushy mixture. Pour into the crust and freeze.
Soften at room temperature for 15 minutes before serving.