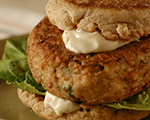 Prep: 20 min
Cook Time: 8 min
Total: 28 min
Serving: 4 Servings
These Arabic-inspired burgers, made with chickpeas, are smothered with a light and flavorful tahini and yogurt sauce.
Ingredients
1 19-ounce can chickpeas, rinsed and drained
4 scallions, trimmed and sliced
1 egg
2 tablespoons all-purpose flour
1 tablespoon chopped fresh oregano
1/2 teaspoon ground cumin
1/4 teaspoon salt
2 tablespoons extra-virgin olive oil
2 6-1/2-inch whole-wheat pitas, halved
1/2 cup Greek-style plain yogurt
2 tablespoons tahini
1 tablespoon lemon juice
1/3 cup chopped flat-leaf parsley
1/4 teaspoon salt
Directions
Put the chickpeas, scallions, egg, flour, oregano, cumin and 1/4 teaspoon salt in a food processor, and pulse until the mixture is coarse and sticks together when formed into a patty.
Make 4 chickpea patties and set aside.
Heat the oil in a large frying pan over medium-high heat, and add the patties. Cook for 5 minutes, flip, and cook for an additional 3 minutes.
In the meantime, place the yogurt, tahini, lemon juice, parsley and 1/4 teaspoon salt in a bowl and stir to blend.
Place each patty into a pita and top with the sauce. Serve immediately.