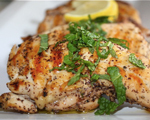 Prep: 1 hr 30 min
Cook Time: 35 min
Total: 2 hr 5 min
Serving: Serves 4
Sumac is a spice commonly used in Middle Eastern cuisine. With its tangy yet delicate flavor, it makes the perfect companion for grilled chicken. Serve with a side of couscous.
Ingredients
1-1/2 pounds chicken breasts, cut in strips
2 teaspoons sumac
juice of one lemon
1 tablespoon olive oil
1/2 teaspoon cumin powder
cayenne pepper
salt and freshly ground pepper
3 tablespoon mint
Directions
Prepare the chicken by placing it into a shallow baking dish and sprinkling each strip with the sumac, cumin powder, cayenne, salt and pepper. Cover and place in the refrigerator to marinate for at least one hour.
Prepare barbeque or oven broiler.
In a small bowl, whisk together the lemon juice and the olive oil.
Grill chicken for about 5 to 8 minutes on each side, or until nicely browned and cooked through. Remove from broiler pan and place on large dish; pour oil and lemon sauce over chicken and sprinkle with mint. Serve immediately.