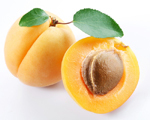 Prep: 15 min
Cook Time: 20 min
Total: 35 min
Serving: 16 People
These sweet cookies are full of dried apricots mixed with your choice of flaked nuts. Hazelnuts or almonds work well. These cookies do not keep well, so it is best to eat them within two days or freeze them for later.
Ingredients
1-1/2 cups flour
1 teaspoon baking powder
1 teaspoon cinnamon
1 cup rolled oats
1/2 cup sugar
1/2 cup dried apricots, chopped
1 tablespoon flaked hazelnuts or almonds
2/3 cups yogurt
3 tablespoons sunflower oil
Directions
Preheat oven to 375 degrees.
Combine flour, baking powder and cinnamon.
Mix oats, sugar, apricots and nuts into flour combination.
Mix together yogurt and oil, then stir into mixture to make firm dough.
Roll mixture to form small balls, place on prepared cookie sheet and flatten with the back of a fork. Sprinkle additional sugar over top.
Bake at 375 degrees for 15-20 minutes or until golden brown.