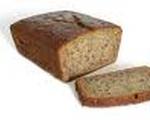 Prep: 15 min
Cook Time: 1 hr 10 min
Total: 1 hr 25 min
Serving: 6
Apricot Tea Loaf is versatile and easy to make. Use peaches, figs, pears or mixed fruit if desired.
Ingredients
1 3/4 cups flour
3/4 teaspoon baking soda
1/4 teaspoon ground cardamon
2 large eggs
1 cup dried apricots, finely chopped
1/3 cup solid vegetable shortening
1/2 teaspoon cinnamon
1 teaspoon baking powder
1/2 teaspoon salt
1 1/4 cup sugar
1/3 cup water
Directions
Mix flour, baking powder, baking soda, salt, cardamon and cinnamon.
In a medium bowl, beat together shortening and sugar at medium speed until light and fluffy. Add eggs one at a time beating well after each addition. Stir in apricots and water
Gradually beat in flour mixture at low speed. Pour batter in a greased and floured loaf pan. Bake at 350 degrees F for 50-60 minutes or until wooden skewer inserted in center comes out clean.
Transfer pan to a wire rack to cool for 10 minutes. Turn loaf out onto rack to cool completely.