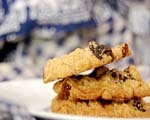 Prep: 15 min
Cook Time: 20 min
Total: 35 min
Serving: Makes 3 dozen cookies
These fruit-filled cookies make a great afternoon snack. They also work well served at tea time.
Ingredients
1 cup dried apricots, finely chopped
1 teaspoon baking powder
1 teaspoon nutmeg
2 cups flour
1/2 teaspoon cinnamon
1/2 teaspoon salt
1/2 cup shortening
1 cup white sugar
1 teaspoon baking soda
1 tablespoon warm water
1 egg
1 cup raisins
1 cup chopped pecans
Directions
Combine flour, baking powder, cinnamon, nutmeg and salt.
Cream shortening and sugar.
Dissolve baking soda in warm water; mix into sugar mixture.
Beat in egg; mix well.
Blend flour combination into sugar mixture.
Fold in apricots, raisins and pecans.
Cover and chill for 1 hour.
Drop cookie dough by teaspoon onto prepared cookie sheets.
Bake at 375 degrees for 18-20 minutes.