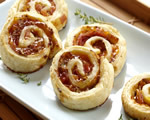 Prep: 4 hr 15 min
Cook Time: 15 min
Total: 4 hr 30 min
Serving: 10
Apricot Pinwheels add a tangy twist to the cookie tray.
Ingredients
1 cup dried apricots, chopped
1/2 cup boiling water
1/4 cup sugar
1 cup butter, softened
1 cup confectioner's sugar
1 egg
1 teaspoon almond extract
3 cups flour
1/4 teaspoon salt
Directions
Combine apricots and boiling water in a small bowl, and set aside until water is absorbed. Stir in 1/4 cup sugar and chop in food processor until it is spreadable.
Cream butter and confectioner's sugar until light and fluffy. Beat in egg and stir in the almond extract.
Combine the flour and salt, and add to the creamed mixture. Blend well. Chill the dough for 30 minutes.
Roll out half the dough to a 9 by 12 inch rectangle. Spread with 1/2 the apricot mixture. From the 12 inch side roll up like a jelly roll. Wrap in waxed paper or plastic wrap. Repeat with the remaining dough and filling.
Refrigerate at least 3 hours or overnight. To bake, slice rolls into 3/8 inch slices. Place on a greased cookie sheet. Bake at 375 degrees F for 12 to 15 minutes. Remove to a wire rack to cool.