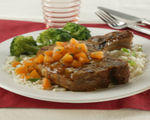 Prep: 10 min
Cook Time: 10 min
Total: 20 min
Serving: 4
Apricots are a sweet summertime treat. However, they are more than just for snacks and salads. You can use fresh apricots in hot meals too. Here, fresh apricots and apricot preserves are used to create a chunky sauce and glaze for succulent grilled pork chops. This recipe is sponsored by the National Pork Board.
Ingredients
4 bone-in pork chops, 3/4-thick each
1/4 cup apricot preserves
2 teaspoons curry powder
4 fresh seeded and chopped apricots
2 tablespoons apricot preserves
2 teaspoons stemmed and chopped fresh cilantro leaves
Directions
In small bowl, combine 1/4 cup apricot preserves and curry powder. Brush over both sides of pork chops.
Place on pre-heated medium-hot grill. Cook on both sides for 8 to 10 minutes or until internal temperature as measured with an instant-read thermometer reaches 160 degrees F.
Meanwhile, combine apricots, preserves and cilantro. When ready to serve, spoon Chunky Apricot Sauce over pork chops.
Serve with steamed brown rice and broccoli.